Stay tuned! The Plumtri platform is online
Wednesday, May 24, 2023 - 23:15
Stay tuned! The Plumtri platform is online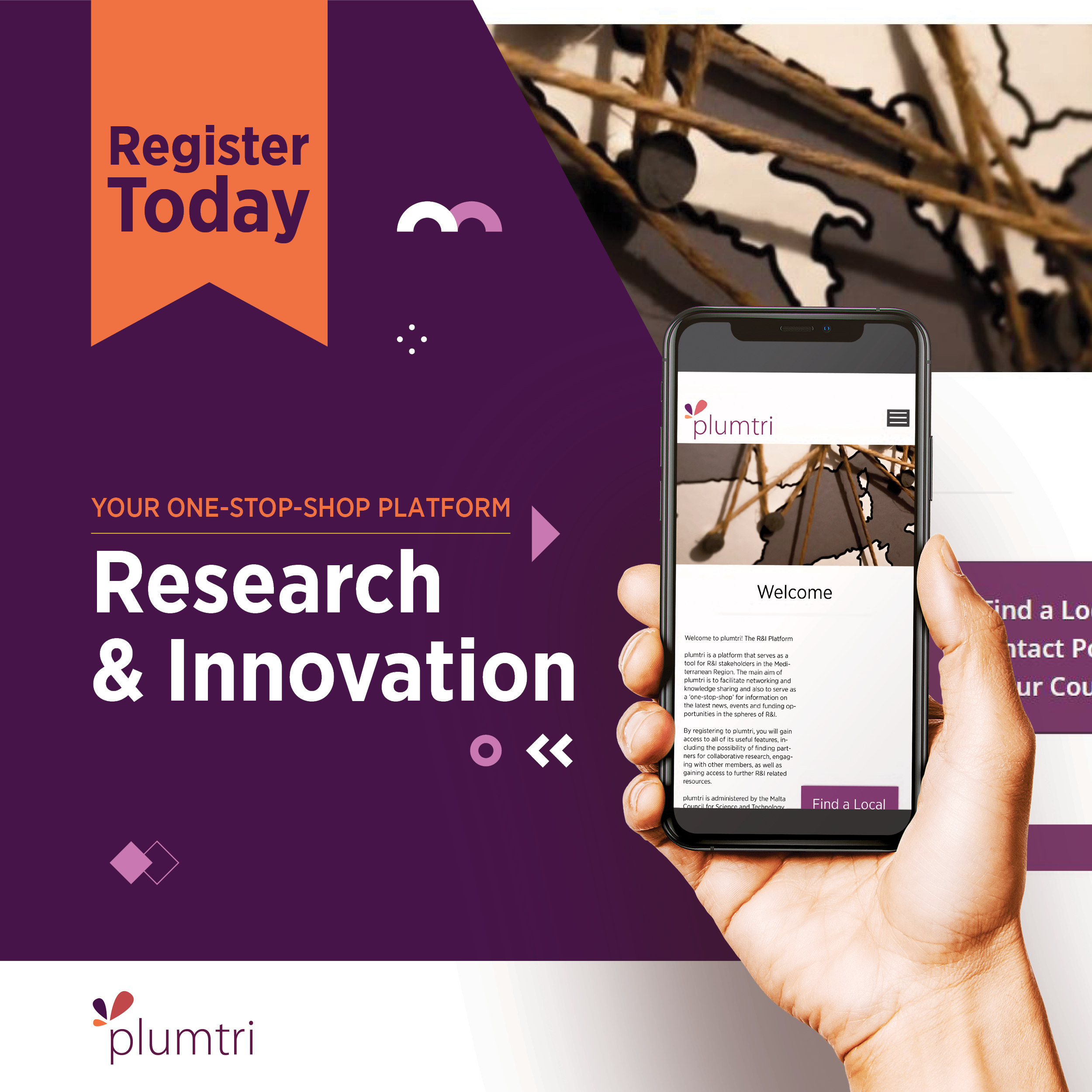 Plumtri: Your Comprehensive Resource for Research & Innovation in the Mediterranean
The Plumtri platform, administered by the Malta Council for Science and Technology, is a valuable tool for Research & Innovation stakeholders across the Mediterranean region.
Designed as a one-stop-shop, Plumtri keeps users updated on the latest developments in R&I, offering a range of features and functions that facilitate networking, provide access to resources, and showcase funding opportunities. Let's explore the key features, benefits, and functions of the Plumtri portal.
Stay Updated with News, Events, and Job Opportunities: Plumtri acts as a centralized hub for the latest news, events, and job opportunities in the field of Research & Innovation. Users can easily access and browse through a comprehensive collection of information, ensuring they stay informed about the most recent advancements and trends.
Resource Repository: The platform's resources section serves as a repository, consolidating valuable information on funding programs, R&I policies, strategies, and other relevant reference material. Researchers, academia, and industry professionals can conveniently access these resources, streamlining their search for key information and enhancing their decision-making processes.
Funding Calls for Mediterranean Stakeholders: Plumtri actively showcases the latest calls for funding that are specifically open to stakeholders residing in academia, research institutes, and private industry across the Mediterranean region. By providing this valuable information, the platform empowers individuals and organizations to explore funding opportunities and take their research and innovation projects to the next level.
Networking Features: Plumtri recognizes the importance of networking for research professionals. The platform offers three distinct networking features to cater to the requirements of its registered users:
 

Tailor-Made Profiles: The registration feature automatically generates personalized profiles for researchers, highlighting their research interests and expertise. This feature allows users to browse through the profiles of other registrants, fostering connections and initiating bilateral discussions with like-minded individuals.
Partner Search Facility: Users can upload partner search requests for specific initiatives, such as funding calls for projects. This feature enables users to find potential collaborators, form partnerships, and maximize the impact of their research endeavors.
Matchmaking Tool: Plumtri's matchmaking tool enables users to register their interest in participating in specific events, pitch sessions, or calls for funding. By connecting users who share similar interests and activities, this feature facilitates direct communication and collaboration between individuals and organizations.

 Benefits of Registration: While the news, events, and opportunities pages are accessible to all visitors, registered Plumtri members unlock additional benefits. By becoming a member, users gain access to the partner search facility, the resources section, and the matchmaking tool. Individuals and organizations alike are welcome to register and take advantage of these exclusive features, enhancing their networking capabilities and expanding their R&I opportunities.
Conclusion: Plumtri is a comprehensive platform that connects Research & Innovation stakeholders throughout the Mediterranean region. With its user-friendly interface, the portal offers the latest news, events, and job opportunities while acting as a central repository for essential resources. By providing networking features and showcasing funding opportunities, Plumtri empowers researchers, academia, and industry professionals to collaborate, stay informed, and make significant contributions to the vibrant R&I landscape in the Mediterranean.
Visit the Plumtri platform at www.plumtri.org and experience the benefits of this dynamic community today.