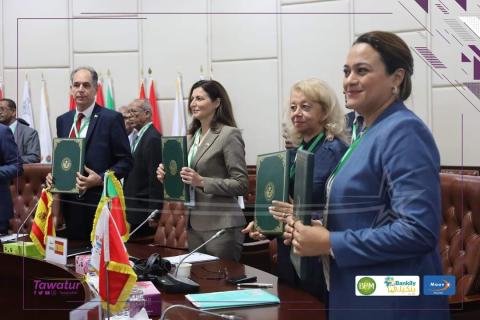 Thursday, November 10, 2022 - 14:58
On 11th October 2022, the competent Ministers of Algeria, France, Morocco, Libya, Spain, Libya, Malta and Portugal and the observer delegates from the Arab Maghreb Union - AMU, European Commission and Union for the Mediterranean - UfM officially signed the Nouakchott Ministerial Declaration of the 5+5 Dialogue on Research, Innovation and Higher Education. The event laid the end of the Mauritanian Presidency of the Western Mediterranean Forum (5+5 Dialogue) and marked the turnover of the Presidency to Portugal for the next two years 2022-2024.
The Nouakchott Declaration is now available in the webstile, published in its English, French and Arabic version.
The new Work Plan under Annex I of the Nouakchott Ministerial Declaration set the new priorities and main objectives of the regional Western Mediterranean cooperation in the field of Networking, Research and Innovation and Higher Education. Every action and main mission and activities are now available on the website.  
As stated in the Declaration Portugal will host the next Ministerial Conference in 2024. During these next two years of Presidency, the Islamic Republic of Mauritania will act as co-president of the Forum.
Italy will continue to host the 5+5 Dialogue Secretariat in Trieste (Italy) at the premises of the Italian National Institute of Oceanography and Applied Geophysics - OGS and will be in charge of coordinating the activities and the communication among the delegates and the observers.
Some pictures and a complete video of the fifth Ministerial Conference are available on the 5+5 Dialogue website in the Events Gallery section.