Upcoming Workshop: PRIMA Proposal Writing
Monday, December 20, 2021 - 14:36
Upcoming Workshop: PRIMA Proposal Writing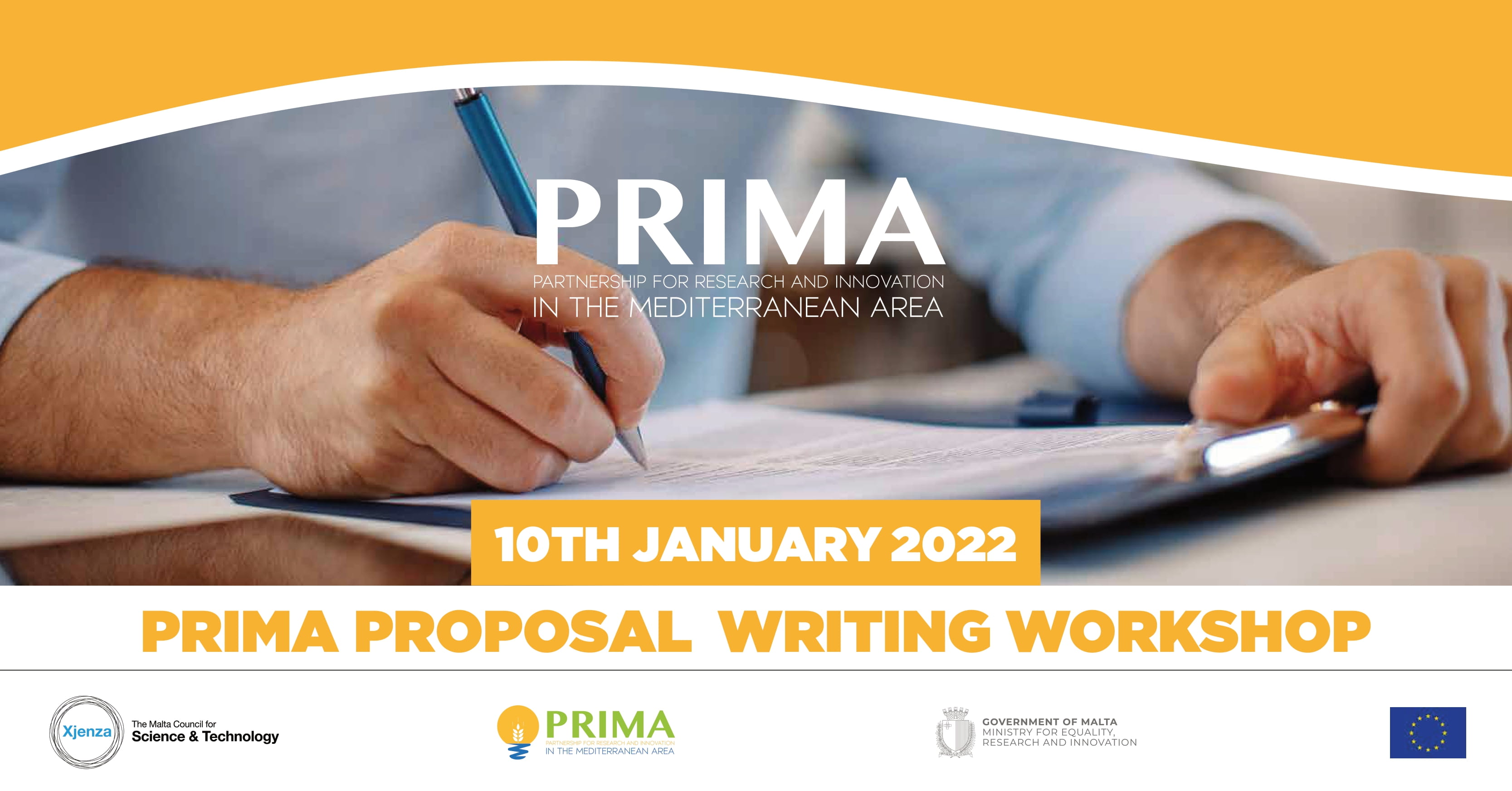 The Partnership for Research and Innovation in the Mediterranean Area (PRIMA) programme launches Calls to fund transnational R&I projects related to three main pillars:
Water Management;
Sustainable Farming Systems;
Agro-food Value Chain.
Interested entities can either apply for EU-funded Section 1 projects or can apply for Member State-funded Section 2 projects for which each Participating State commits an annual budget.
The Malta Council for Science and Technology (MCST) is committed to build capacity in writing effective and successful proposals submitted to PRIMA.
In fact, MCST will be organising a full-day proposal writing workshop focussed on PRIMA proposals on the 10th of January 2022. Training will be delivered by a key expert from the PRIMA Secretariat. This workshop is intended for a broad range of stakeholders hailing from academia, public and private entities, NGOs, proposal writing service providers, funding support entities, end-users etc. Hence such a workshop can also be a useful opportunity to interact and build personal networks.

This event is by registration only and will be accessible both online and in-person. The number of in-person attendees is limited and so early registration is highly encouraged. Also, in-person attendees will need to present a valid COVID-19 vaccination certificate* and will need to consent to providing details for contact tracing purposes.
Venue: Main Hall, Villa Bighi, Kalkara
Date: 10th January 2022
Time: 9.30am-5.00pm
Register here (for both in-person and online attendees): link
Agenda: TBA
In-person attendees can register their interest to attend this workshop by the 31st of December 2021 (limited places available). In-person attendees will receive a confirmatory email.
Deadline for registration to access the workshop online is 6th of January 2021. Connection details/Meeting link will be provided prior to the workshop.
More information on Plumtri Platform: link
* A valid vaccination certificate recognised by the Superintendent of Public Health for a full course of vaccination (2 doses or 1 dose of a single dose vaccine) with EMA approved vaccines (Comirnaty [Pfizer], Jannsen [Johnson & Johnson], Spikevax [Moderna], Vaxzevria [AstraZeneca]), with batches that are authorized by the national regulatory authority of the administering country, with 14 days after the last dose.